BOMLA Participates in DISD's Principal for a Day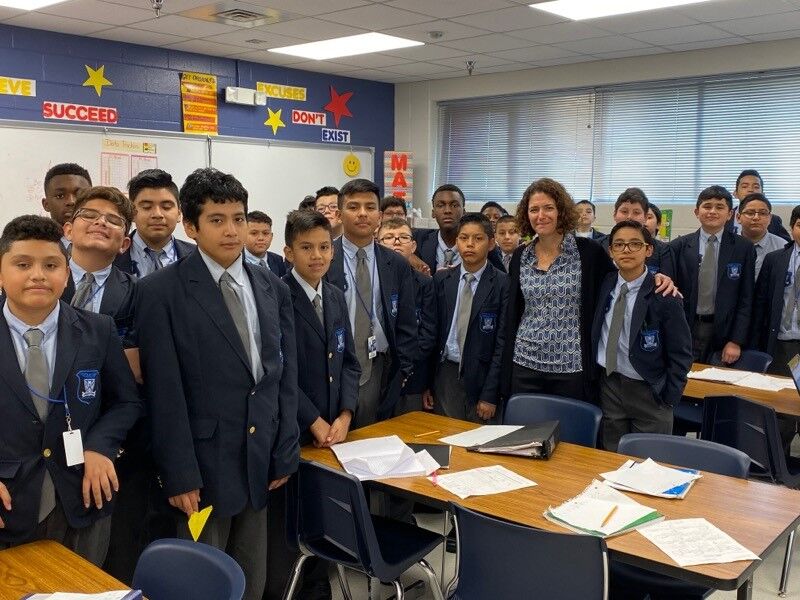 Even though it wasn't opposite day, Oct. 10 sure felt like it! BOMLA hosted Maureen Tarantello as our principal for Dallas Independent School District's (DISD) annual Principal for a Day project.
In collaboration with the Dallas Regional Chamber and Capital One Bank, DISD hosts Principal for a Day (PFAD) as an opportunity for community leaders to become acquainted with different schools in the district. This project also signifies the commitment that DFW organizations have to improving the quality of public education.
Tarantello serves as Willis Towers Watson's U.S. West region lead and is responsible for managing and increasing the company's business and client relationships in that area.
During her day as principal, she spent time with students and participated in community meetings with teachers and administrators. Attending those meetings introduced her to the amount of work that is required to plan effective lessons and the compassion and dedication that BOMLA staff has for students.
Although she enjoyed learning more about the educational structure, there were other aspects of her day at BOMLA that she appreciated.
"My favorite part was the Lyceum," said Tarantello. "I was impressed with the order, respect, sense of community and questions from scholars."
She knows that her experience with BOMLA did not end with the project and is excited to participate in Career Day with a colleague who is an actuary.
Thank you for joining us on DISD's Principal for a Day, Maureen!