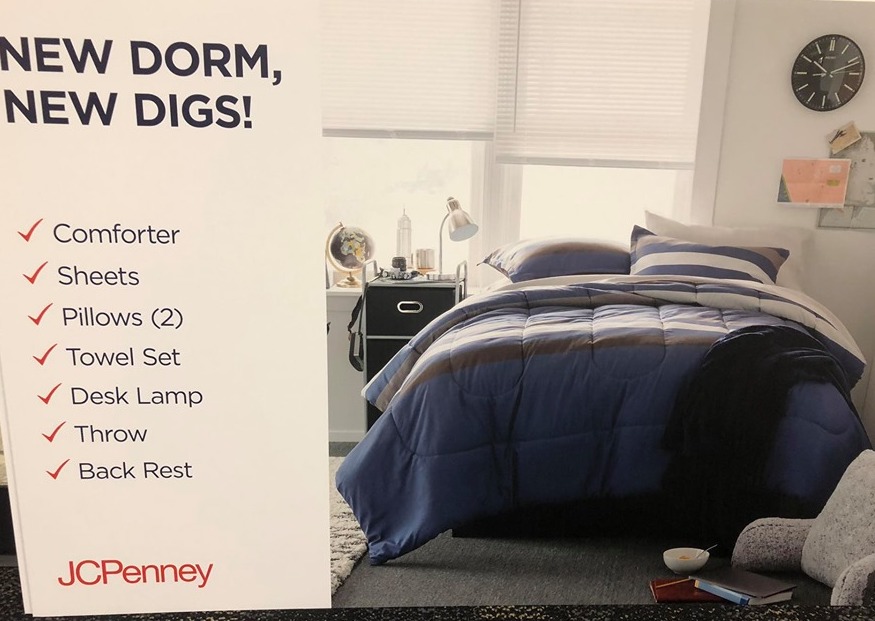 Seniors will begin the fall semester in style, thanks to JCPenney.
A long-time corporate partner of FRIENDS of Obama Academy attended Senior Signing Day this year, with a big announcement – each graduate will receive a dorm makeover package and an invitation to an exclusive event at JCPenney Headquarters in Plano.
"Because of your hard work and dedication to your studies the last four years, we wanted to think of a way to show you how it was all worth it. When you get to your campus in the Fall, you're going to need some things to make that new place feel like home" said Misty Tippen, Senior Manager Philanthropy and Community Relations at JCPenney.
The starter dorm room package is valued at $350 and includes a comforter, sheets, pillows, towel set and other items. Students also received a $50 gift card to shop at the retailer.
"At JCPenney, we believe in investing our time and resources in people and programs that build strong, vibrant communities. Your pursuit of education helps us establish these types of communities, and we're proud to be a part of this year's Senior Signing Day program" said Tippen.
Parents immediately understood the impact of the gift.
"That was such a relief and such a blessing" said parent Tandi Smith. "The fact that they're willing to do that for all the young men was amazing. It helps alleviate stress from parents and also the young men, who maybe have felt like they've asked for so much already. It's a really big help."
Mother of two graduates, Elvira Ortiz was overcome with emotion at the announcement.  "I was speechless because that would be a lot of help for a parent for what we can give the kids for the dorm. It's just a great opportunity for the school to have a partner like JCPenney."
In July, graduates will travel to, "Camp JCPenney" in Plano and receive advice from recent college graduates who are working in the company, network and make connections with other 2019 graduates, and interact company executives.
The intangible benefit of the relationship between Obama Academy and JCPenney is not lost on our graduates. Brother Imanol Padron is headed to The University of Texas at Arlington in the fall. "We're all thankful to JCPenney for the amazing contribution towards our future. We are all really happy that they have always been with us, and have always believed in us."
More parent and student reactions
"We were thrilled to hear that because I was just going to have a conversation with my son and we thrilled and that it came through and the gift card. It will help everybody financially" – Sandra Curd
"I thought that was awesome. Oh my God. I was bragging to my coworkers because it was actually what exactly what he needed. Wow. It was really awesome." – Darnell Merritt
"Thank you so much for providing me with the materials I needed. That is just one less worry for me" – Brother Jalen Lampkin
"Thank you for providing the class of 2019 with luxurious items for our dorms. Your generous donations have offset the worries of having the finances to live a comfortable lifestyle while attending college. While attending college, I will be able to focus on my education and commitment to my community." – Brother Kendrian Collins