Growth and Success Result in New Building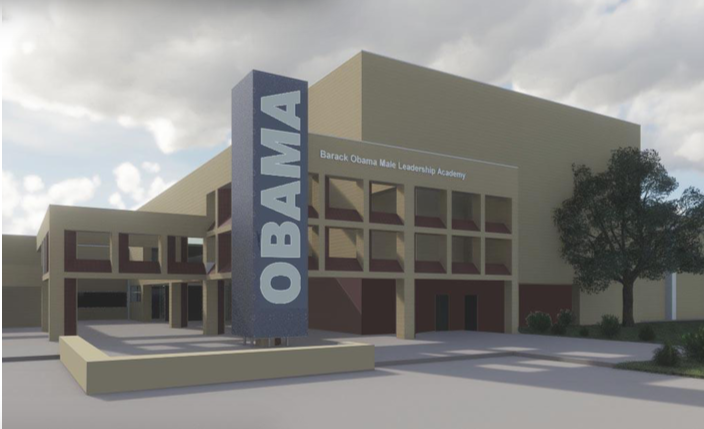 Under the direction of Dallas ISD Trustee Lew Blackburn, The Barack Obama Male Leadership Academy (BOMLA) will relocate to the A. Maceo Smith High School building at the close of the 2017-2018 school year. BOMLA has long outgrown its current space located at the B.F. Darrell campus on Lancaster Road since it opened in 2011. The FRIENDS of BOMLA advocated for a larger space and for BOMLA's inclusion in the Dallas ISD 2015 Bond.
The A. Maceo Smith campus is currently home to students and faculty of New Tech High School. Both campuses will move during the summer months, and renovation and construction will begin on both buildings. Dallas ISD has committed to investing $18 million to make the renovations, divided evenly between the two campuses. The A. Maceo facility features a nearly 1,000 seat auditorium, 2 gyms, sports fields, and capacity for 1,200 students. Both schools will reopen in their new spaces in August 2018 and renovations will continue throughout the school year.
"This is a great next step on our quest to give our young men an infrastructure that removes barriers" said Sophia Johnson, Friends of BOMLA Chair.  "We desperately needed the space and this is the answer that removes barriers to learning and success."
BOMLA is slated to enroll more than 120 additional students next year, an increase of more than 31 percent from the previous year, which means that the move is happening at the right time.
Dallas ISD Trustee Dr. Lew Blackburn has confidence in BOMLA's trajectory towards success.
"Dallas ISD has proven that the BOMLA formula works" Blackburn said. "BOMLA students have achieved 100% graduation rates, outstanding academic scores, Blue Ribbon designation from the U.S. Department of Education and been exposed to character-building programs and experiences. Increasing BOMLA's enrollment capacity is an excellent investment in future leaders for our city, state, and nation.  We look forward to BOMLA's continued success at the A. Maceo Smith campus."
BOMLA administration, FRIENDS of BOMLA, and the Dallas ISD Architecture and Design Team are working closely  to ensure that BOMLA's unique program offerings and culture of leadership remained intact at the new site. For example, building redesign will encourage upper and middle school engagement and collaboration. FRIENDS will host tours for donors and community leaders beginning in Fall 2018.  Follow @BOMLAFRIENDS on social media for updates.
Please note FRIENDS of BOMLA  mailing address: P.O. Box 398455, Dallas TX 75339.
PHOTO:  HKS Architects