BOMLA Graduates Third Senior Class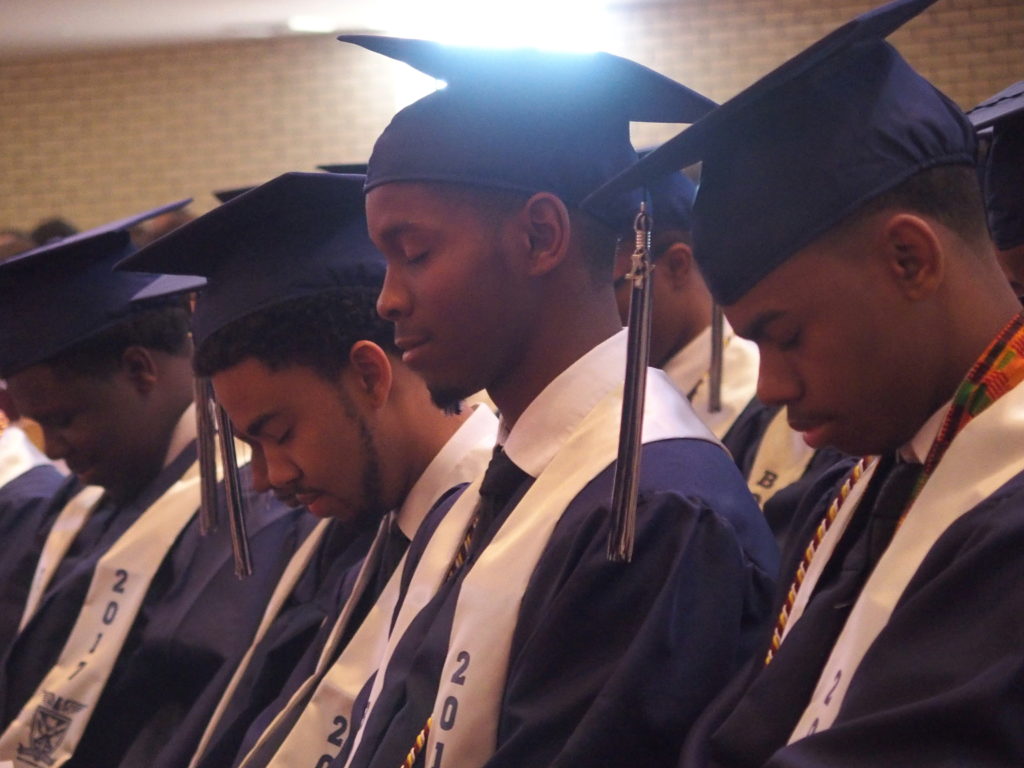 For the third year in a row, "The" Barack Obama Male Leadership will graduate 100% of students who have all been accepted to 4-year colleges and universities. The class has earned a cumulative $2.4 million in scholarship and financial reward offers.
This year's valedictorian is Brother Taylon Owens who has been at BOMLA since the school opened his 7th grade year.
"BOMLA has impacted me by allowing me to learn in a comfortable environment while developing me holistically. Not only was I challenged academically, but I was challenged as a young man maturing into manhood. I would not be who I am today without The Barack Obama Male Leadership Academy." Taylon will attend Prairie View A&M in the fall to study Chemical Engineering.
Brother Bryan Flores recently spoke to a group of rising 9th graders during the Crossover Ceremony, a rite of passage where students receive their blue ties that distinguish them as Upper Schoolers. "As an academy in the center of an urban metroplex, we are expected to fail, expected to get nowhere in life. Within the center of this amazing school, we are preparing to defy those expectations and redefine the parameters of what the face of success in education looks like. " Bryan will attend Texas A&M University in the fall.
The Third BOMLA Commencement Ceremony will be held on Saturday, May 27 at Adamson High School. See below for a full list of college acceptances:
| | |
| --- | --- |
| Abilene Christian University | Lyon College |
| Alabama State University | University of Mary Hardin-Baylor |
| Alcorn State University | McPherson College |
| Angelo State University | The University of Memphis |
| Austin College | Midwestern State University |
| Baylor University | Norfolk State University |
| Birmingham-Southern College | North Carolina A&T State University |
| Bradley University | University of North Texas at Dallas |
| Clark Atlanta University | University of North Texas |
| Colorado School of Mines | The University of Oklahoma |
| Creighton University | Ouachita Baptist University |
| Dallas Baptist University | Our Lady of the Lake University, San Antonio |
| DePaul University |  University of Pittsburgh |
| Graceland University |  Prairie View A&M University |
| Grambling State University |   Purdue University |
| Hampton University |  Sam Houston State University |
| Hawaii Pacific University | Southern Methodist University |
| Houston Baptist University | St. Gregory's University |
| University of Houston | Texas A&M University |
| Howard University | Texas A&M University, Commerce |
| Huston-Tillotson University |  Texas Christian University |
| Indiana University at Bloomington |  Texas Southern University |
| Iowa State University |  Texas State University |
| Jackson State University |  Texas Tech University |
| Jarvis Christian College | Texas Wesleyan University |
| Johns Hopkins University |  Texas Woman's University |
| Kansas Wesleyan University |  The University of Texas, Arlington |
| Lamar University | The University of Texas, Austin |
| Langston University | The University of Texas, San Antonio |
| Lawrence Technological University | Wichita State University |
| Lincoln Technical Institute (Texas) | |