News from BOMLA Friends – December 2015
To whomsoever much is given, of him shall much be required.
News and Updates from BOMLA Friends
Greetings FRIEND,
We want to start by offering our congratulations to Principal Nakia Douglas, who was named DISD 2015 Magnet Principal of the Year. Principal Douglas, we appreciate your vision, commitment, and leadership.
Congratulations Nakia Douglas, Principal of the Year!
Principal Douglas' dedication to the students, faculty and staff of Barack Obama Male Leadership Academy was recognized in front of his peers.
You can watch this video for more from the DISD ceremony.
Principal Douglas and the Other 2015 Honorees:
Tracie Washington, Tanya Shelton, and Julie Singleton
Wishing You Happy Holidays!
In this season of giving, we ask that you to 
donate
 to FRIENDS.
Our work supports student and faculty programming and education. 
Your gifts help FRIENDS power amazing opportunities for our future leaders.
BOMLA 2015 Graduates Return for Homecoming
Brothers from the 2015 graduating class returned to BOMLA to speak to students and show their support for the community.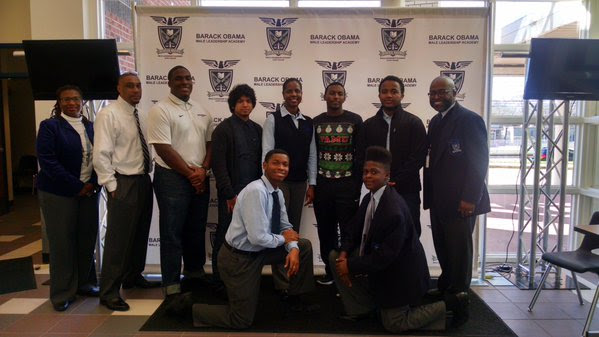 Brothers Dariet, Miguel, Timothy and Mahteme with Principal Douglas and BOMLA Staff
Alumni Jack Erspamer Discusses College Life with the BOMLA Brothers.
Fine Arts Puts On Quite The Show
The Brothers in the fine arts department demonstrated their skills during their Winter Showcase performance for parents and teachers.
BOMLA Brothers Run in the Oncor Mayor's Race 5K
BOMLA Brothers and teachers were up early to run in the Oncor Mayor's Race 5K. Despite the gray, rainy skies, the team was all smiles!
Team BOMLA with Matching Shirts and Smiles
BOMLA Brothers Honor Rosa Parks Legacy
BOMLA students at DART's commemorative event honoring the 60th anniversary of Rosa Parks' courageous and historic actions.
BOMLA Brothers Participated Along with Local Officials
Represent: BOMLA in Serbia
Principal Douglas represented the BOMLA community recently at the Summit 100 Young Leaders of South-Eastern Europe conference, where he spoke on a panel titled "Business & Academic Community/Building Bridge Between Business and Academy."
Principal Douglas and Other Panelists